The year 1875 was a landmark for the family of Sri Naurangrai Dalmia, when he, driven by innate business dynamism in prospecting for greener pastures, chose to migrate from Sekhavati in Rajasthan to the commercially vibrant Calcutta, then then Capital city of the British Raj. From a very humble beginning in trading in Agro-based commodities, his firm viz. Naurangrai Mungalal attained the Numero Uno position in its field by the end of the first World War.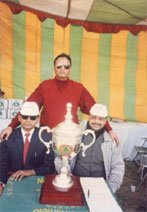 The growth of the family, gave sufficient manpower and scope for diversification into the allied fields such as trading in oil seeds, oil and oil-cakes. Backed by the specialised knowledge and experience in this area they established a Top-class crushing and processing unit for Oil-seeds, Cereals and Pulses. No wonder it was the Number one unit of its kind. During nineteen hundred sixties the business grew from strength to strength under the able leadership of Sri. Matrumal Bulaki Ram Dalmia. He not only build up a solid and efficient infrastructure but also branched out to various parts of the country through his associates to facilitate procurement of various produce at most competitive rates after on-the-spol assessment of quality.
By Nineteen hundred eighties the fifth generation of the family, equipped with modern education and occupational skills were ready to carry the task of building the business forward and entered into other activities as warranted by the Economic policies of the Government.
As already mentioned we specialised in processing and trading in agricultural commodities. it is a well acknowledged fact that trading in such commodities requires instant information, scientific approach and specialised knowledge for talking quick decisions to avail of the opportunities. To help achieve the best in our ventures we have the following facilities.
Data-base and market Research : A system to facilitate continuous updating of our data-base covering crop-growth areas and patterns, procurement centres, crop production forecast, potential market both inside and outside the country, market demand, price variances, import and export potential, government policies and regulations etc. This coupled with past vast experience helped in pin pointing the demand-supply gap and zero-in on the opportunity at the right moment and at the right price.


In-house facilities : we have our own cleaning, grading and packing facilities, which help meet strict quality requirements and customer specifications ensuing timely delivery. In nineteen hundred eighties we cleaned and graded mustard, sesame and sun flower seeds and milled them expansions process. These were micro filtered and marketed both in bulk and consumer packs under the bran name of "Shanker". Now we adapt the latest technology in Oil-crushing and packing.
For effective handling of diverse interest the activities are being looked after by the following companies concentrating on specified fields.